Pin It
Now that fall is here, it's time to start kicking up your heels and step out in some amazing shoes in vibrant fall colors! Whether you're wearing peep toes, sexy heels or ankle booties you'll look super chic in this season's latest styles! We love combining the look of trendy and sophisticated.
If you want to follow in our footsteps be sure and check out our impressive selections and leave your friends digging up their heels!
High Heels
Heels are a great way to elongate your legs and create a sexy look.Embrace the shockingly fabulous shades of red this season with a dynamic red heel.Leather is another hot trend. We'd rock a stylish pair of leather leggings with leather stiletto heels that are fierce and fabulous.
Top footwear brands from Kurt Geiger London to Bank Fashion offer bright shoes with flirty heels.The leather-soled Lucy shoe from Kurt Geiger has a high thin heel that screams femininity in a stunning shade of red. Red heels are a must-have this season!
Take pattern to a new level with your shoes! Graphic trends are hot, so why not jazz up your "going out" shoes? The Kitsch Couture Holly
Peep Toe Heels are the perfect pair. These shoes have a bold leopard print on the heel and a shocking red shade on the front sole. Carried by Bank Fashion, Kitsch Couture's are the ultimate way to step out for a great night out! A peep-toe adds sexy flair to the heel and leopard is so on trend right now.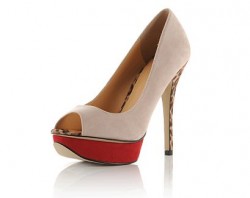 Wedges
Wedges are not to be left out of any shoe discussion! Pattern is a must-have for any outfit this season. Pair a great skirt or trouser with the Frankie Wedges from Kitsch Couture.The pattern is dramatic with large purple, blue and black flowers.The wedge features a rounded toe, front platform and matching heel in this exciting pattern.The heel is exclusive to Bank Fashion. We are also loving this very fashion-forward black suede wedge bootie with the studding detail.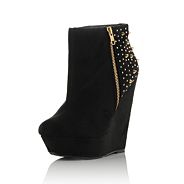 Boots
Rock the boots as your favourite going out shoes! High heel boots range from tall knee-length to ankle booties.Fall in love with the Calvin Klein Shoe Boots in solid Garnet.Soft leather covers the high-heeled ankle boots which add a pop of colour to any outfit in your wardrobe. With a stiletto heel covered in leather, these going out shoes are sure to make a statement! You'll definitely "stand out" in the crowd especially in these black and leopard boots!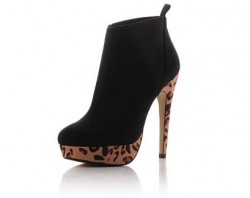 Look fabulous in these spectacular shoes for a night on the town. There are many styles to choose from including sexy stiletto heels, flirty patterned wedges and high-heeled ankle boots. Your gorgeous new shoes are a great reason to head out for the night and make a grand entrance wherever you go! Click the purple link to indulge!