Pin It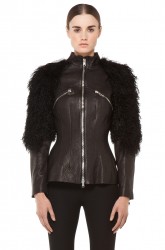 We don't just love a cool and trendy leather jacket, we love a leather jacket that's strikingly chic and dramatic! Anyone can own a black leather jacket. That being said, Alexander McQueen's Biker Jacket in black with the accented fur sleeves is not just any leather jacket to own. It's a totally to-die for piece and one you'll not see yourself coming and going in.
The jacket is just so cool…so McQueen's style…hip and sophisticated with a super edgy flair. We'd pair with skinny jeans, skinny trousers or leggings and a simple (no studding) pair of black ankle wedge booties from Rick Owens who also epitomizes cool and minimalistic style.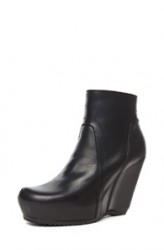 The simple detailing and fur sleeves put this jacket in a class of it's own! Although the lived-in biker leather jacket is the piece to own this season….McQueen's leather jacket refines the biker look making this a very chic piece.This fashion forward jacket features silver zippers, Mongolian lamb on the shoulders and sleeves and is lined in silk.
The price of the jacket makes this a LUST-HAVE more than a must-have. Click the link to indulge. It's fun to splurge once in awhile. This jacket is so ahead of the curve (and accentuates them too!) it can be worn for season's to come. It looks especially fabulous zipped accenting your tiny waist! We'd pair with Pierre Hardy's simple Large Satchel in Black for a finished look.