Pin It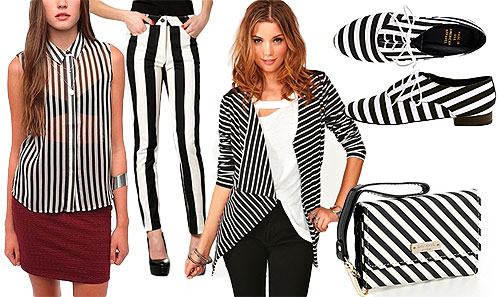 Shopping and Goodies is back after a hectic week in New York at Fashion Week! We have the latest spring trends from the fashion editor of People Stylewatch! Getting back to fall…we have two very hot seasonal trends…stripes and sneakers! The high-top sneaker craze keeps on going and fall's black and white combo proves to be huge. Would you wear black and white striped oxfords?
We always have our celeb scoop. Read about Julianne's feeling for Ryan Seacrest! Shopping and Goodies always has the latest trends and scoop from Stephanie, Pamela, Susana and Betsy. See ya next week! xo
A Few Goody Gumdrops scoops an interview with People's Stylewatch Editor about Spring's 2013 runway collections!
Girls Talkin Smack has the scoop on Julianne Hough's feelings for Ryan Seacrest!
Shopping and Info shares the sneaker craze with Ash's Cool Ter Wedge Sneakers as seen on Eliza Dushku!
TheFind is mad for stripes, it's fall's hottest print in black and white!