Pin It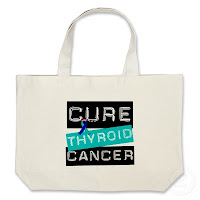 September brings us Fashion Week and Thyroid Cancer Awareness Month.Thyroid Cancer is the most common Endocrine Cancer.Thyroid Cancer is now the 5th most Common Cancer in Women and known to be much more PREVALENT in Women than Men. When diagnosed early most types of Thyroid Cancer have a very good prognosis.
It's become oh-so fashionable to Get Your Neck In Check! Thyroid Cancer Survivors' Association Encourages Women to Learn About Thyroid Cancer and to Ask Your Doctor for a Neck Check. This can be done very quickly.The message for Thyroid Cancer Awareness Month is "Find It Early".
Early Detection is the Key! This Cancer is often overlooked, slow growing and is on the rise. "The American Cancer Society estimates that there will be about 56,460 new cases of thyroid cancer in the U.S. in 2012. Of these new cases, about 43,210 will occur in women and about 13,250 will occur in men. About 1,780 people (1,000 women and 780 men) will die of thyroid cancer in 2012″.
When Detected Early, Most Thyroid Cancer is Treatable. In the early stages of thyroid cancer, many patients do not experience symptoms. As Thyroid Cancer develops, symptoms can include a lump or nodule in the front of the neck, hoarseness or difficulty speaking, swollen lymph nodes, difficulty swallowing or breathing, or a pain in the throat and neck area. Please visit the website to learn more- thyca.org. ThyCa organization was founded and is maintained by Thyroid Cancer Survivors.
I was diagnosed with Thyroid Cancer six years ago. My thyroid was removed and the surgeon told me most of my thyroid was diseased. My thyroid cancer required Radioactive Iodine Treatment which was administered by a Radiation Oncologist. Every six months I see my Endocrinologist and have a combination of blood tests, physical examination, and or Thyroid ultrasound, PET scan, CAT scan, lung scan and Radio-Iodine body scan. My Thyroid Cancer was detected in a routine gynecology appointment. So, please make sure either your physician or gynecologist CHECKS YOUR NECK. A Few Goody Gumdrops wishes to thank ThyCa for all this helpful information.
Here's hoping all my favorite Fashionista's will pass this very important information on to your family and friends. xo, Betsy