Pin It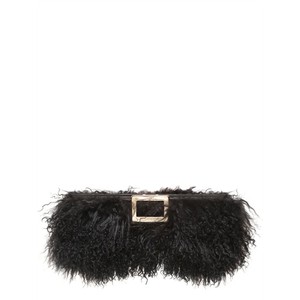 Roger Vivier's French imports, such as this Mongolian Fur Clutch, have seen something of a revival, lately. Fans know and love the signature pilgrim buckle — not to mention the stellar craftsmanship, leather lining, light gold colored metal hardware, and 100% sheep skin construction. This clutch embodies the best of a kind of "Beverly Hills chic." From a certain angle, the bag even looks like one of those adorable small black fluffy dogs – such as a shitzu poodle – that you might see Reese Witherspoon or Emma Watson strolling around the Hollywood hills on a sunny (as always) Southern California Saturday morning.
Whether you brunch at Toast and shop on Melrose or not, this clutch will assuredly mesh well with your other Hollywood-esque accessories. This is a feminine bag, but it's not hyper-girlie-girlie. Indeed, it could even serve as the one "out there" accessory that you pair with a conservative work suit; the clutch is not so garish that it can't be paired with normal outfits.
There is another "plus" to this clutch that polite women often don't mention! The bag is black. So that means stains, discolorations, etc will be far less likely to "show up." So, for instance, let's say you're raising a toddler, and she becomes fascinated with your bag and drags it through her playdough, Cheerio crumbs and crayon boxes. If your bag was a different color, this abuse might ruin it. But since this clutch is jet black, stains tend not to show up as well. That makes your life just a wee bit easier. (But every bit helps, right?)
In other words, the bag is a practical choice for anyone living "real" life – with real stains, spills and other impromptu disasters. You can have it both ways – you can look like a pampered Hollywood starlet and still live like  "you." Click the link to indulge!