Pin It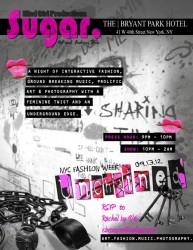 While I was attending the Boston Globe Style Cover Party at the Emerald Lounge at the Revere Hotel, my daughter was attending and representing me (A Few Goody Gumdrops) at the Sugar "Unchained" Art & Fashion Show at the ever-so trendy Bryant Park Hotel Cellar tonight. It was both a fashion and art show, edgy, all female designers/artists and lots of press! I can't wait to get the scoop (all the details) from my daughter.
The producers have been known to be over-the top with their shows so I'm sure it was amazing and creative. What a fabulous way to wrap up NY fashion week! I know my daughter enjoyed. I hope she was armed with her trusty camera!!!! We both met some fascinating people! Tomorrow we will really get to chit chat.
The Boston Globe Style Magazine revealed it's Most Stylish Bostonian's tonight, at an exclusive private event featuring Boston influencers, fashionistas and business VIPs, complete with food, drink, fashion and entertainment.The complete list of the 25 Most Stylish Bostonians for 2012 will be revealed on Sunday, September 16th in The Boston Globe Style Magazine, available in The Boston Sunday Globe. I wish I could reveal the list…but you'll have to read it on Sunday. Mom & Daughter are both ready for bed!