Pin It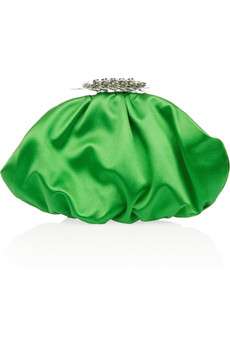 What a fabulous evening bag from Yves Saint Laurent. Saint Laurent's Crystal embellished silk-satin bag is perfect for evening affairs, cocktail parties, galas and premieres. (if you're lucky enough to go to one!) A stunning emerald green bag is the perfect contrast when wearing an all black or white outfit and is the latest must-have color. If you're going to spend the big $$$$ then it should be on a classic designer item. As I always say…(when it applies) this bag is timelessly chic and elegant.
Forget about always playing it safe with a black or brown bag. It's fun to have a bag in an exciting eye-catching color. I have a green apple Prada bag from years ago and it always looks great paired with the right outfit. I love using green (at times) instead of the typical boring black or brown SAFE bag. Don't get me wrong…my closet is full of black, brown and tan bags. It's hard to break the mold but it's fun to indulge in a VIBRANT color every so often!
The satin clutch looks perfect carried in the palm of your hand. We love a feminine look with a bold color bag to give a simple outfit that momentary pop! This ever-so chic clutch features a gorgeous crystal accented closure. Pair with your crystal, diamond or emerald jewelry and Lanvin's Structured Ruffle Taffeta Dress.The bag is just big enough for all your "goodies"…lip gloss, cell phone, tube of eye lash glue and more! Click the link to indulge and carry to your next event. Oo-la-la! You'll look smashing in your latest Lanvin dress and YSL bag!