Pin It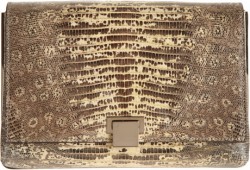 Mary Kate and Ashley may have retired from the TV biz, but they're still constantly finding ways to innovate their brand. Enter this exotic Tejus lizard skin clutch by The Row. Warning to a penny pinchers out there: it ain't cheap!
But fashionistas might suggest that it's worth its weight in gold and then some. When paired appropriately — for instance, with Essie's Gold Mirror Metallic nail polish "good as gold"– the gold sheen creates an almost effortless luxe shimmer.

Comfortably sized in between "petite" and "jumbo" at 6 inches x 9 inches x 3 inches, the Italian made clutch boasts pale gold toned hardware, a travel mirror, a smooth leather lined zip pouch and gorgeous wide metal frames, which offer the structure a cohesive luminescence.
Glow with Power – Effortlessly
Living the luxurious life — at least from a fashion point of view — can be confounding. It's easy to go wrong in so many different directions. You can be too garish, too drab, too "out there" and too boring/normal. The truly wealthy are often humble, generous people. They embrace a kind of dualism about their status: at once, they comport themselves with humble dignity. And at the same time, they exude a kind of regal evanescence – almost a kind of untouchable quality.
Maybe that's all a little abstract. But this bag kind of typifies "wealth done right." It looks gorgeous and shimmery, obviously. But it lacks the ostentation and desperation that so many other bags – even high-end ones – unfortunately resign themselves to.
Even if you're not going to purchase this clutch now, at least indulge in a few fleeting seconds of fantasy about it: imagine heading to the Oscars or going to the ball with Prince Charming — whatever your most ridiculous romantic fantasy is — with this gorgeous bag draped on one arm and perhaps an even more gorgeous (if that's possible) suitor on the other.