Pin It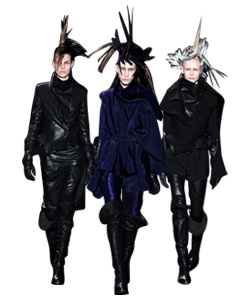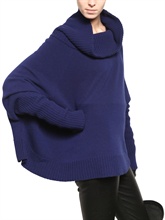 Although we haven't exactly mastered pronouncing or spelling Ann Demeulemeester's name…we're enamored with her innovative edgy style as seen in her latest collection. Her pieces are "nothing fancy" just the epitome of COOL. If you've just started buying your fall/winter wardrobe a comfy oversized and sophisticated blue sweater from Demeulemeester is the perfect choice.
The jewel tone color is so "fall" and bright enough for dreary winter days.This is definitely a "live in" sweater with it's cowl neck, batwing sleeves and extra long ribbed knit cuffs. Coincidentally, the sweater hides a multitude of sins. (the tummy, the back fat…) That works for us!!
Ann's pieces continually define her cutting edge style and funky detailing as seen in this stylish Wool Cashmere Knit Sweater. When you click the link be sure to eye her fashion forward designs. We wish we had a black-tie event just to wear one of her simplistic yet stunning, form fitting gowns.
Demeulemeester's (we're still practicing her name) blazers are just the right mix of edgy and chic. They work so well with jeans, trousers and leather pants. Her Calfskin Over The Knee Boots are making their way in our shopping cart along with the blue comfy sweater. This season is all about high boots.
We know you'll love her high styled designs for this season although the head gear is a bit much for us. Click the link to indulge! De-meul-e-mee-ster….there I said it!