Pin It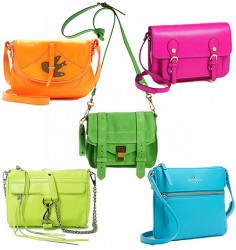 It's hard to avoid the fashion world's newly rekindled obsession with neon shades, and unlike many warm-weather fads, it seems safe to say that bold colors won't be fading from the fashion spotlight anytime soon. And while it's completely understandable to be wary of the trend's 90s, nu-rave feel, these modern interpretations of in-your-face brights don't have to be quite as obnoxious as previous seasons' takes on super-saturated colors. In fact, when worn in moderation and paired with the right neutrals and toned-down prints, neons can be fun and festive without demanding all the attention.
If you're still cautious, start small with a neon crossbody bag. Statement-making but not overwhelming, these punchy bags are ready to embrace sunny days and warm weather and help you ease into the neon trend without blinding the passers-by around you! Small enough so they don't overpower your whole outfit, but the perfect size to catch your eye, a little neon bag will make you the envy of every fashionable beach-goer!
Pictured above: Marc Jacobs Petal to the Metal Flap-Over Bag, Proenza Schouler PS1 Suede Pouch, Steven by Steve Madden Crossbody Bag, Rebecca Minkoff Mini Neon M.A.C. Clutch, and Kate Spade New York 'Cobble Hill' Tenley Crossbody Bag.  Thanks to our friends from thefind.com for this colorful guest post!