Pin It
Professional businesswomen often lead paradoxical lives.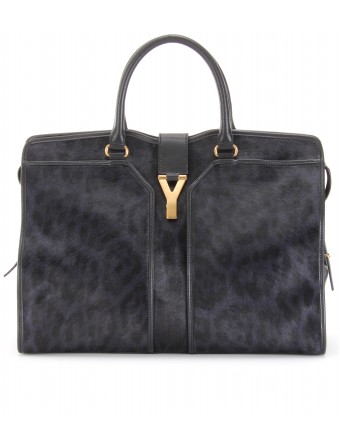 On the one hand, you want to wear clothes and accessories that demonstrate your competence, savvy, and "no-nonsense" nature. On the other hand, you want to be able to embrace your sensuality and femininity – your softer side. Rare are the bags that simultaneously exude professionalism and luxe sensuality in an integrated, "this makes sense" way. But this Yves Saint Laurent black animal printed haircalf tote does just that.
Consider the two facets of this bag's aesthetic:
1. No-nonsense alacrity: "Look out world, it's me! Roar!"
You gotta love the gold toned hardware and signature logo with snap closure. The understated animal tone print is a perfect demonstration of uptown Manhattan (or downtown LA or Chicago) chic. Explore the craftsmanship and textures — the gold-on-black juxtaposition. The wearer automatically looks "put together" and clear thinking. Like the kind of woman who can step up and take decisive action in a shark eat shark world.
2. Essential delicateness.
But this tote is no men's briefcase! It's definitively feminine. And that's what makes it such a find. The gold touches, the softness of the animal print, the almost playful wit of the construction… they all conspire to create a subtle, sensual magic. You want the best of both worlds – to be sensual, and to be professional. Now you can have your cake and eat it, too, in tote form. Click the link to indulge. Yves Saint Laurent at mytheresa.com