Pin It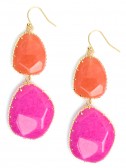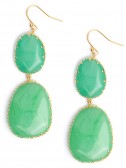 Last week our Shopping and Goodies link exchange featured stackable bracelets from the BaubleBar! The bracelets were very cool and so easy to wear. The best is the more you wear the better the they look! Just keep piling them on.
This week we're sharing fabulous, fun and reasonably priced dangling earrings that you'll live in all summer! The first pair is the Color-block Boho Drops in hot pink and bright orange. The second pair is the Nina Boho Drops in bright green. These earrings can be worn casual or dressy and add a fun pop of color to any outfit. Wear them to the beach with matching bright nail polish. They look great with this season's neon jeans, flowy dresses, floral prints, maxi dresses, colored shorts or white skinnies with a sheer white top. (love the neutral palette with bright earrings)
Shopping at the BaubleBar is the best new haunt in town! The prices
are so reasonable and there are so many amazing styles to choose from. 
Match your outfits with jewelry you'll live in from the BaubleBar. We even found a fab copy of our Verdura Lattice Link Cuff. (Looks very close to me)  My shopping cart is about to tip over. (over-filled) I love the BaubleBar. This summer I'll be all "baubled" out from head to toe. Click the link to indulge!