Pin It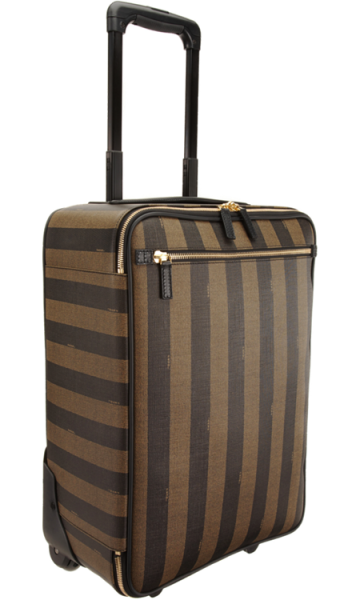 Having just purchased a wheelie I can assure you they're fabulous.(especially if it's a designer wheelie filled with designer duds!!!!!) We're loving Fendi's trolley in the tonal penguin stripe.
This totally functional (or should we say extravagant) bag features a two-way zip around with a front zipper pocket and a collapsible top handle. The leather is coated which keeps the bag from getting less dirty. Having schlepped my LV duffel's everywhere ( by the handles) I was ever-so ready for a trolley that I could wheel around. It makes life so much easier and there's plenty of room for anticipated  shopping spree!
Although there are so many trolleys out there….I prefer the sophistication of a designer one. Why? I have no idea except I've always found designer items irresistible. Remember….my first LV bag was purchased when I was 19 years old. My grandparents each sent me checks for Valentine's day for "a good meal".  I bought a "good bag" instead. Must be my guilt free shopping mantra! Getting back to the Fendi Trolley……it's pricey but it's a bag you'll have forever. (making it worth the hefty price tag!!???) Click the link to indulge. I enlarged the pic so you could see all the detailing.