Pin It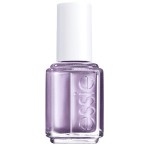 Our friends from TheFind originally introduced us to Essie's Mirror Metallic Collection. While I've been wearing Essie's gorgeous blue…"bikini so teeny" (probably my only chance to wear a bikini) on my nails this summer and loving it…I finally made the switch. As of today….I'm wearing Essie's silver nail polish called "no place like chrome" and my nails look like my kitchen faucet. The best is…..I can now put my lipstick on looking into my nails!!!!
My nails are shiny and metallic.(you may need your sunglasses!) My short rounded nails look like mini sun reflectors. Essie's five Mirror Metallic polishes illuminate with an extremely high shine. They're almost glowing….maybe too much??? The only drawback is with all this extra shine…. any flaws in your nails show up through the polish. (nothing to loose sleep over unless your mirrored nails keep you up at night) The silver polish pairs so perfectly with sparkling diamond and silver jewelry.
These colors are fabulous for a party, special event or wedding. Personally, I think it's a bit dazzling for everyday but I am getting used to it. The other colors are…"good as gold" "blue rhapsody" "nothing else metals" and "penny talk". More than the colors…I love the names. The polishes are fun and you won't need to carry a mirror in your bag !!!!  Next week I'm trying  "nothing else metals" which is a gorgeous shade of lavender. Click the link to indulge! For a real trendy take wear a different metallic on each nail!