Pin It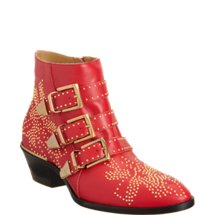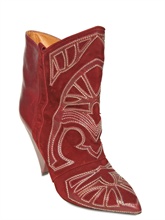 Red is a big boot color for fall and will definitely add a trendy pop of color to any outfit. I'm slowly becoming more open to color. I think wearing one red item is very chic especially a pair of red boots and they're so easy to wear. Here's our top picks for red boots!
Chloe's Susan Studded Ankle Boot reminds us of Miu's Miu's Boot from two years ago which my daughter owns in black. (very hard to get them in my suitcase when I recently visited her) We both loved that boot then and we're totally loving this boot now in red. She probably thinks she will buy this one and pass the oldie off to me. Not happening! I want RED!!!!
Even though I'm not typically a red person I'd love a pair for this upcoming fall season. I'd pair these boots with my favorite Lanvin jeans or Marant jean skirt, my Junya white blouse and a cool blazer. How's that for a young at heart and very hip outfit! The blazer probably adds my age into the equation.These boots would also look amazing with tights and a pleated skirt. They're available in boring black and beige.
We're also loving Isabel Marant's Embroidered Suede and Leather Boots.These boots feature front panels in suede with applique detailing and leather back panels. These boots look great with jeans, leggings, skirts and so much more. I'd pair them with Marant's Suede Fringed Waxed Cotton Jeans. (maybe too gutsy for me but love the look)
Lanvin's tall suede boots are perfect for a short pleated skirt, skinny jeans and leather leggings. (tucked in the boots) They'd also work great with a skirt suit. The color and style make these boots a must-have! Click the link to look cool in Chloe, Isabel Marant and Lanvin's Tall Suede Boots. Red is raring to go for fall. I'm pretty conservative when it comes to bright colors. I'm thinking it's time for  a fun colored pair of ultra-stylish boots! You can even wear them on the Fourth of July with a jean skirt and white tee for an oh-so patriotic look!