Pin It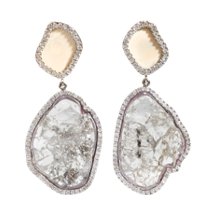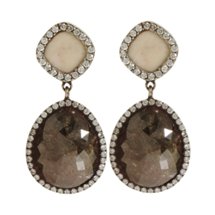 Monique Pean is an ex-Wall Street executive, turned genius jewelry designer. She's clearly not afraid to be brash — even radically so. Consider Exhibit A: these 18 karat white gold hanging earnings from Pean's Atelier Collection. The stunningly stratified icy diamonds are set with fossilized woolly mammoth and diamond slices, surrounded by white pave diamond. For those of you at home keeping score, that is a statistically significant amount of bling!
Pean, a CFDA/Vogue Fashion Fund Award winner, uses eco-friendly and sustainable materials for her designs. But her commitment to "designing green" certainly has not thwarted her color palette. These scintillating luxury earrings are anything but minted off a press. They are literal treasures, one of a kind pieces, obviously raw and original.
They are loud and unapologetic. At the same time, they embody a paradoxical softness — a delicate timbre. They're big but not showy; eye-grabbing but not ostentatious.
These chunky earrings are for special occasions – a wedding, a vanity party to celebrate the publishing of your first novel, etc. The diversely faceted diamonds are succulent — gazing at them, you might even feel yourself briefly transported to the Arctic (or at least to the Taiga). You can imagine the last great woolly mammoth in history collapsing into a heaving snow bank, to be frozen solid and cast through the ages of time. Or something. Maybe that's getting a little bit too poetic/nonsensical. But in any case! These are cool earrings – literally and metaphorically. Check 'em out!