Pin It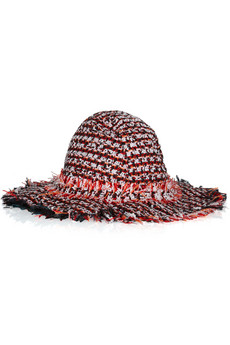 Now that summer is here, it's time to start wearing a hat but not just any hat. We often wear baseball caps but we're thinking about a more
sophisticated look for the beach this summer. 
Hats have become a go-to staple for summer activities! We'd never go to the beach, take a walk or go boating without wearing a hat.The main reason is we want to avoid getting (any more) wrinkles and damaging our skin. We're so excited that Lanvin's ever-so chic Woven Boucle-Tweed Sunhat is now reasonably priced.(sort of affordable) We looked at this hat two months ago but it was too pricey.
The (Chanelish tweed) sunhat features a wide brim which is perfect for protecting your face from the sun. Big sunglasses are also a must! We'd pair this fabulous hat with beach attire, shorts and a great tee/tank or a strapless maxi dress. The bright colors and flouncy shape make this hat fun and oh-so fashionable! (oh-so"….one of my first blogging terms that I still love from five years ago!)
We forgot to mention the designer of this hat. It's Lanvin……but of course you knew that because everything Lanvin is always gorgeous, chic and cool. Click the link to indulge! Wait til you see the Lanvin dress we are thinking of pre-ordering for fall.