Pin It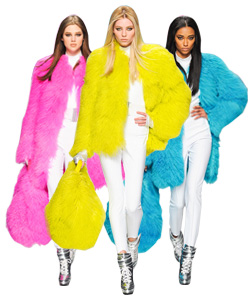 Designer Anna Molinari is renowned for her ability to craft creative couture that exudes vitality, sensuality, and a certain kind of playfulness.
Her line, Blumarine, is at once sultry and feminine – and also modern/cutting edge. This Mongolian fur coat, for instance, looks like something you might find on the most gorgeous, fashion-forward Inuit ever. The delightful, eye grabbing colors cannot merely be described as "striking." It's beyond that — as if someone did a "mash up" of a beautiful ice-warrior goddess and a robot Godzilla-hunting anime super heroine. If that makes sense.
Less more metaphorically speaking, here are the specs: this Italian made treasure features a concealed hook and eye closure, rayon lining, and 100% Mongolian fur. It's ideal for crisp summer night outings. For instance, a "blow-y" pool party up in the Hollywood Hills, after your movie premiere. Or perhaps you might drape on this coat while having a smoke outside a nightclub, while chatting up Bjork, Helena Bonham Carter and the drummer from Modest Mouse.
Do you have what it takes to pull off this "hyper modern classic" look? If so…if you possess a kind of innate bombast and confidence…this "show-offie" fur coat may just be your style. Click the link to indugle! You must pair with the matching Mongolian Bag! We hear Betsy is drooling over the yellow ensemble!